We do! 17.08.18
The Backstory:
Pierre and I have had a bit of a whirlwind romance, some might say. We met on Sunday the 12th of March last year, at Pontoon in St. Kilda, on Labour Day Eve. I was there with a girlfriend, and as soon as we walked in she said, "There's my friend Pierre at the bar!". My response was, "Who the hell is that? And why have I never heard of him before?". We had a our first date the following Friday night, 6 weeks later he moved in with me, and we got engaged on February 14th of this year, which is Pierre's birthday (and of course, Valentine's Day - which neither of us care much about!). I was taking Pierre out for dinner for his birthday, and he surprised me by proposing. We knew we were going to get married, but I had no idea when the question was actually going to be asked! He said by doing it on his birthday, was the only way to throw me off the scent. He was probably right!
Whilst our wedding day was truly beautiful, there was a cloud of devastation over us. My beautiful big brother, Michael, had taken his own life, only 3 weeks prior. After battling the hideous disease that is clinical depression, he couldn't go on any longer. When it first happened, I didn't think it would have been possible for me to get married. I couldn't feel anything but heartache, severe heartache. A pain that only those who have lost a loved one to that illness, can comprehend. How do I celebrate my own happiness and an amazing love I have found, whilst grieving for my brother at the same time? How do my parents celebrate their third child's happiness, whilst grieving for their first born? It seemed impossible to me. Life seemed impossible. During that first week after Michael died, I fell in love with Pierre even more. He carried me through that time. He was and is my rock. Somehow, we got through those initial weeks, and whilst there were many tears on our wedding day, happy and sad ones, it was such a beautiful day. Michael really liked Pierre (as everyone does!), and was glad I'd found him and not stayed with any of the "d*ckheads" I'd previously dated! Typical big brother comment! I know Michael was there with us that day, feeling happy and peaceful.
The planning:
I had a clear vision for our wedding day… I wanted it to be stylish, glamorous and modern, but with an antique-esque feel about it. I'm not even sure if that made sense to anyone else, but it made sense in my head, and I spent many hours researching suppliers, florals, dress styles, makeup styles, cars, venues, shoes, (etc etc etc!), to make sure that theme was met. My now husband let me run with my own ideas from the get go. I, of course, would show him everything I was researching, because his opinion is important to me, and I was always told the same thing, "yep beautiful. I love your taste babe, whatever you think". Which is lovely to hear, but also difficult when you can't make up your mind and really need your fiancé's help!
The first thing we did was write an invite list, so we had at least a rough idea on numbers and how large the venue would need to be. We only wanted to invite people that we were really close with. Everyone knows how expensive weddings are, and we weren't going to invite people purely for the sake of it. We had exactly 100 people accept, which we were really happy with.
Our first stop was looking for a venue and settling on a date. We looked at a few different venues, starting off at wineries in Red Hill and the Yarra Valley, and even Werribee Mansion. But after a lot of debating, we decided we didn't want people to worry about having to book accommodation and drive 1-2 hours to get there. You always run the risk of loved ones not being able to make it because of that. I was also worried about the weather, and didn't want to stress about a wet weather option. So, after a lot of googling, we had a look at places around the city, and in the end the choice was clear. The George Ballroom in St. Kilda. It is, without a doubt, one of the most stunning rooms I have set foot in. I had been there a couple of years ago for a Kookai fashion show, and fell in love with it! I had no idea a venue like that existed only a few minutes from my house! It matched my brief to a tee! Stylish? Tick! Glamorous? Tick! Antique-esque feel? Tick! The room is just impeccable. Beautiful mirrors, floorboards, the walls are just incredible, literally everything about it was perfect for what we wanted. I could go on forever about it! It had a bridal suite too, which really appealed to us, as it was somewhere we could go and have a moment to ourselves through the night, if we wanted. Given we decided on a winter wedding, The George was perfect for that as well, as it has a cosy feel to it. It really did tick every box for us!
We saw photos online of a gorgeous wedding ceremony, with large columns behind the couple, and I said to Pierre, where is that?? Europe? Turns out it was the balcony of the Melbourne Town Hall. We went and checked it out, and loved it for our ceremony. Stylish, simple, elegant. We chose to have white chairs and white carpet, with two white silk drapes on either side of us. Again, it kept with the theme! We found the staff there really helpful and easy to do with as well, which makes life so much easier when planning all of this.
The next thing I did was call up the beautiful Tanya Didenko to discuss wedding dresses. I have known Tanya for 3 years now, and she is not only exceptionally talented (her craftsmanship is second to none), she is also one of the kindest, loveliest ladies I have ever had the pleasure of knowing, so it was a no brainer that she would design my dress for me. I actually never tried on a wedding dress, before the design process. Sounds weird, I know… But I was pretty much set on what I wanted. I had some inspo images from Pinterest to show Tanya, and she came up with the design based on those. I knew sleeves were a definite, giving our winter wedding, but I wanted them quite sheer. A very low back was also something I had firmly decided on. Tanya showed me some Italian beaded lace she had, and it was so divine, so a definite yes to that. It hit the antique-esque part of my theme that I was after. Based on that, we chose an antique white colour for the dress, instead of a true white or ivory.
The other pieces I needed to make my dress complete, were a head piece, (to sit above my veil, and something I could leave in my hair once I removed the veil after the ceremony), shoes, earrings, a clutch, a tan, lashes, skin prep and hair and makeup. Men have no idea how much work goes into us on our wedding day…. and every other day haha. The lovely Jeanette Maree, who has a store in Armadale, was my go to for the head piece and shoes. I have worn some of her head pieces before and absolutely love them! She has a huge selection of anything a bride could want or need. I chose a pair of her heels, that had a lower heel than I would normally wear, as it's such a long day, and didn't want to be in agony. I had Tanya Didenko add some beadwork to the back of the heel for me, just for a bit of detail (the same beadwork that is on my dress). The shoes were so comfy, I was fine in them all day and night! We all wore stunning diamond earrings by Shannakian Fine Jewellery. I have dealt with these guys before as well, and they're just so kind and make amazing jewellery! With the clutch, it's obviously not really seen, but I still wanted something sparkly and beautiful, so I went to one of my favourite Aussie labels, Olga Berg, and had a look at their bridal collection, and chose a piece that tied in well with my dress. My skin clinic, Clinicalase, prepped my skin for the big day. I have been going to this clinic for over 3 years now, and can't speak highly enough about them. I had a light peel and an oxygen facial - my fave! It smooths and hydrates the skin, as well as giving you a nice plump effect. Makeup also sits so much better on your skin after one of these treatments. I had locked in my hair stylist way in advance! Rachel Vitullo from Joey Scandizzo Salon in Toorak, has been doing my colour for years, and she's also an incredible stylist! I didn't want anything drastic, just strong waves for myself, and soft, smooth waves for the girls. I had some clip ins from Showpony Hair Extensions, mainly for thickness (my hair was quite layered at the time), and a little bit of length. After much deliberation over whether I do or don't do my own makeup, I decided I wouldn't be comfortable with anyone else doing it. I thought it would be good for me to relax on the day and not have to do my own, but I know myself, and I would have sat there very stressed out, wondering if I would like it or not, so best to do it myself, the way I know I like it. My maid of honour also chose to do her own, while Anna, Bec and my dear mum had their makeup done by the beautiful Amelia Webb. My lashes were done by Melb Lashes. I have been going here for so many years, and have not seen anyone who does a better job than these ladies! Whilst we were getting ready, I wore a cute silk set by Le Rose, that had 'Mrs G' embroidered on the back, and a robe from Home Bodii. I gave the girls some beautiful pink robes from Lost In Lace to wear. Lastly, I tanned myself up with Le Tan, the green base. I have never had a spray tan before, and given I have been tanning myself for so many years, I am very confident in applying it, without making a streaky mess! Geez it's a lot of work being a woman, haha.
Pierre's and the groomsmen's suits was another no brainer. Pierre's youngest brother, Remy, has a bespoke menswear label, so of course he made the suits for the boys, and they were amazing! Pierre brought home swatches of different fabrics and colours to show me, and after a lot of discussing, he went with the lighter navy option. The groomsmen wore navy suits and ties, with white shirts. Their suits were all tailored specifically for their taste. Pierre wore a cream tie and white shirt, and had pointier lapels on his suits than the boys had. They all looked so handsome!
The bridesmaid dresses… Ok, so this was more difficult than finding my own dress! I always knew that when I got married, I wanted my bridesmaids to be happy and comfortable with how they looked. I never understood why some brides would want to put their bridesmaids in horrendous outfits. I wanted the girls to look and feel amazing! I looked around for months, and given the 3 girls all have very different styles and body shape, I was looking for something either really specific that would hopefully work for all 3 of them, or something that was a little different around the bust line, to suit their figures and taste. With only a few months before the wedding, and still not having found something that everyone was happy with, I came across Love Honor. I showed them the kind of look I was going for. Midi length, fitted, fishtail, fluted sleeves and in an ivory colour, but not stark white. I believed this style would suit all of them. Love Honor are based in Sydney, and thankfully my beautiful bridesmaid Bec also lives up there, so she was able to go in and have a fitting, look at the fabric etc. They were so amazing to work with, so helpful and managed to get it all done a couple of weeks before the wedding! Even though they were made to measure, I still had concerns about them not fitting properly, but they actually fit like a glove! They all looked so beautiful, and the girls loved them.
Photography was booked in very early. We went with ATEIA Photography, as they had a great reputation, amazing reviews online, and after meeting with the owner, Ramy, we felt very comfortable with him and what they were offering. I think my words to him when we first met were, no 90's style glamour shots please! I've seen so many bridal shots that seem to have that look, and that is definitely not our style. I wanted it romantic, glamorous and fashionable, without looking dated. Pierre, again, didn't seem to fussed, as long as we had some photos!
The videography took us a lot longer to book in. We just couldn't agree on what to do with it. The one thing we did know that we wanted was a speech narrative, meaning our vows and speeches are layered over the top. We didn't want a video that was just music, as we felt that didn't capture the day the way we wanted. We met with C2 Films and instantly liked them. They completely understood what it was we were after, and after seeing the 3 short Instagram clips, the 5 minute video and the 16 minute short film, we could not be happier with what C2 Films captured on our day. It makes both of us (and our families) so teary when we watch them. We can't recommend them highly enough.
The florals…. Oh boy was this a nightmare to organise, until I finally found the most amazing florist! I spoke with so many florists, received so many quotes, (some of which were absolutely insane), and couldn't find anyone that fit within our budget and that I felt understood what I was after. Again, Pierre left the look of the florals entirely up to me. Originally I had decided on all white and green, but then felt we needed a pop of colour in there, based on the venue, being a winter wedding and my dress. I was beginning to reach desperation point, as it was about 3 months before the wedding, and we still didn't have a florist! I was having lunch with a girlfriend one day, telling her this drama, and she mentioned she has a friend who is an incredible florist, Foxy Evergreen. These guys are incredible! Nat, the owner, completely understood what I was after. I had put together a very detailed list of what I wanted, the colours I wanted, and some of the types of flowers I wanted. Cymbidium orchids in a magenta/burgundy type of colour was one of the types of flowers I was adamant about. We wanted two large arrangements in urns on either side of us at the ceremony (which were then taken to the reception), garlands down the centre of the two long guest tables at the reception, and across the front of the bridal table, as well as an arrangement on the end of the bar. I don't overly love a posy of flowers, so I went for a cascading bouquet, which hides the stems. The boys had buttonhole florals, and the guests were given cones filled with white rose petals at the ceremony, to throw on us after we were pronounced husband and wife. Nat worked within our budget and created something even more stunning that what I had imagined.
We had our cake made by Nikos Cakes. These guys can not only make what looks like a work of art, but their cakes also taste incredible! We chose a 3 tier, rendered, vanilla citrus and vanilla berry cake, with gold foil. Nat from Foxy Evergreen, decorated the cake beautifully with florals.
One day while searching Instagram for some inspiration, I stumbled across Giant Invitations, and I am so glad I did! They were a dream to deal with, and created all of our invites and signage. The first thing they did was design our wedding invites and my bridal shower invites. For the wedding invites, as with everything else, I knew exactly what I wanted. White and gold, and laser cut, with a beautiful scripted font, and that's exactly what they provided. At the reception, I wanted a pop of colour, so went with a deep pink, burgundy sort of colour, for all the place cards, menus and seating chart. We also had little frames signs with our hashtag on the tables. The welcome sign was on a decal, stuck to a beautiful ornate gold mirror. It was literally exactly what I had pictured in my head. Foxy Evergreen, put some flowers around the welcome sign and seating chart as well, which added so much more to the look and feel of it.
The place settings was a very important aspect of the whole look. Well, for me it was anyway, not so much for Pierre! Until he walked into The George on our wedding night and saw how it all came together… He definitely changed his mind then! I had my heart set on gold cutlery, and after a lot of Google and Instagram searching, I came across Gold Cutlery Hire Australia. The ladies who run this business were a delight to deal with, and have beautiful cutlery for hire. Their prices are also very reasonable, compared to some of their larger competitors. My mum and I looked for a dusty pink linen at Spotlight and online, so we could make our own napkins. By we, I mean my mum! Haha, I am no good with a sewing machine, but my mum is excellent! We couldn't find any fabric that was the right colour, they were all too bright for what I was after, so I ended up hiring them from Simmons Linen Hire. As with the cutlery, these guys were lovely to deal with, had the exact napkins I was searching for, and their prices were better than the larger companies offering the same thing. I had seen an inspo shot on Pinterest of napkins with small berries tied around them, so I asked our florist if she could source something similar, and she did! The berries and place cards were tied around the napkins with a burgundy coloured velvet ribbon, together with wish bones. My mum has been saving the wish bones out of chickens for as long as I can remember. She was saving them for when one of us kids got married. When you break the wishbone with the person next to you, you make a wish, and hope you get the bigger half! My beautiful mum boiled all the bones up and painted them gold. It was a lovely, personal touch to each place setting.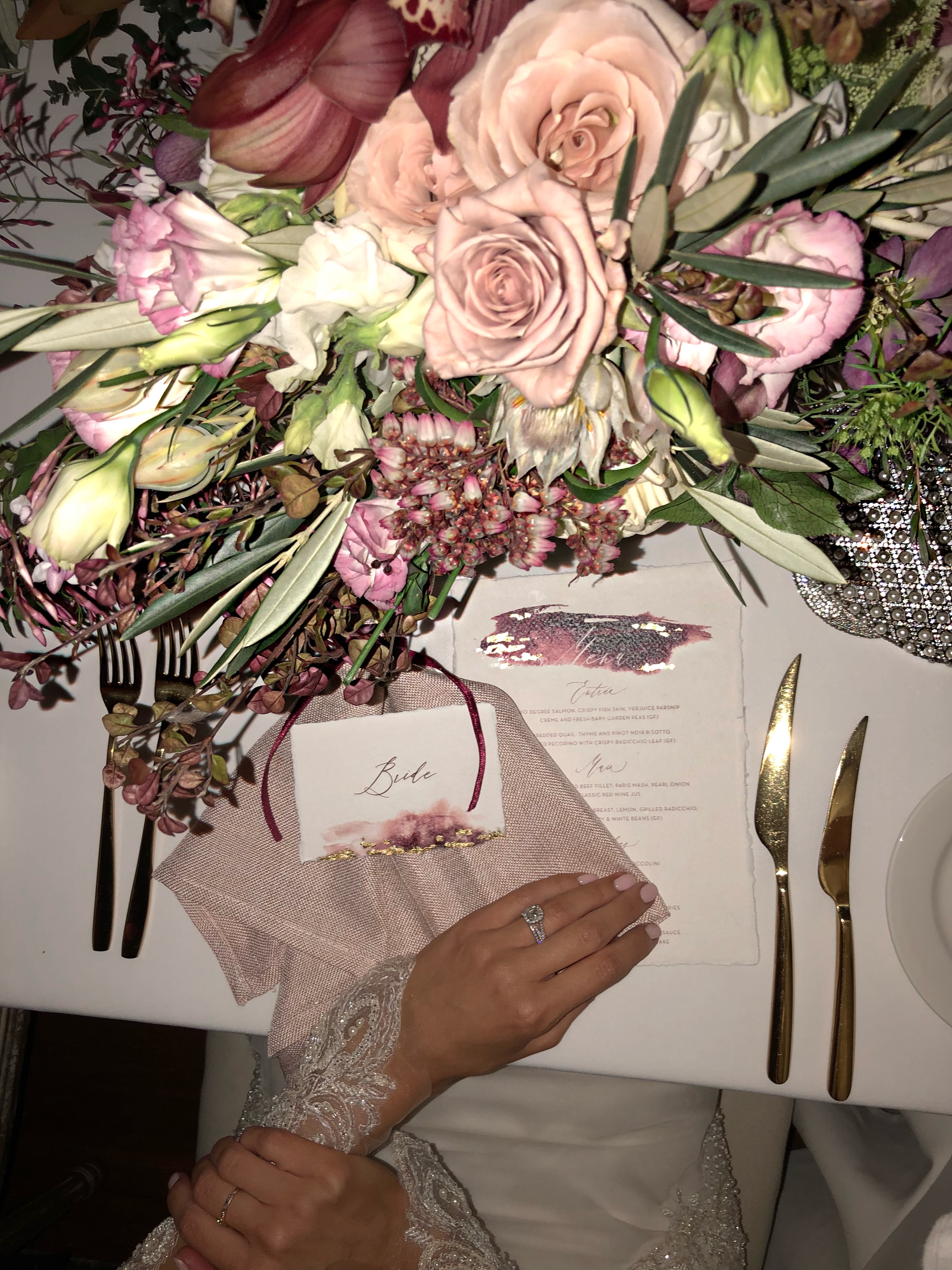 Something that was quite easy was our entertainment. We wanted an acoustic singer and DJ. After Pierre and I spent hours googling, we found Issac from Main Entertainment. He was exactly what we were searching for. We met with him one afternoon, and found him to have such a kind, calming and warm energy, as well as obviously talented! The bridesmaids walked down the aisle to Issac singing, Lego House by Ed Sheeran. He then sung, All Of Me by John Legend, when I walked out. It was just so beautiful, we couldn't have been happier with Issac. He sung numerous other song during different parts of the ceremony, as well as at the reception. The other really significant one was My Girl by The Temptations, when my dad and I did the father daughter dance. This was quite an emotional moment for my us. I am my dad's "little girl" (I'm the youngest of 3), so giving his daughter away, and then dancing with me at my wedding, was emotional enough for him, but combine that with all the emotions of having just lost my brother, my dad's first born child, well as you can imagine, there were a lot of tears. It was a moment I will cherish forever though.
The night before the wedding, the bridesmaids and I stayed at The Westin in Collins Street, and Pierre and I stayed there the night of the wedding. This hotel is simply gorgeous, and perfectly located for us, as our ceremony was literally around the corner. In fact we were so close to the Melbourne Town Hall, that Pierre suggested we walk, instead of hiring cars!! Obviously that didn't go down well, haha. I told him we can't do that! What if it's raining, what if it's windy? Plus we need nice shots of my dad and I getting out of the car, as well as needing transport to get from the ceremony to the reception, and of course, photo locations! So we ended up hiring 2 cars from Triple R! For my dad and I, we rode in a 1949 Rolls Royce Silver Wraith, in burgundy and silver. I absolutely loved this car when I first saw it. The colour matched some of the colours in our florals, and I liked that it was a 1949 model - the same year both my parents were born. For the bridesmaids we chose the 1955 Rolls Royce Silver Dawn in black.
The big day:
The most magical, beautiful day of our lives. I'm sure all brides feel the same way about "their" day. It is a feeling that no one could have ever described to me, until I was actually in it myself. The morning of the wedding, I was pretty calm and quiet. While the girls all got ready in our hotel room, I was in the bathroom doing my makeup. It was good for me to just be on my own for a bit whilst getting myself ready. It was when my dad arrived that all the emotions really started bubbling up! It was one of the nicest moments, having my dad travel to the venue with me and walk me down the aisle. Seeing Pierre waiting for me at the end of the aisle was such a surreal moment. I wanted to laugh and cry (happy tears!), all at the same time. Pierre was teary when he saw me, which just made my heart melt. Who doesn't love a man that can express emotion!
Everything went to plan beautifully. The weather was perfect, and given it was the middle of August in Melbourne, there was a high chance of it being freezing and wet, but instead we had loads of sunshine and zero rain! It was a little windy, but that worked so well in some of the photos, as it helped to lift my veil up, creating some shots that we absolutely love.
We arrived at The George Ballroom 45 minutes earlier than our guests. We wanted to take some photos in there before everyone arrived. That moment when we walked into the room and saw it for the first time… WOW! Words can't describe how blown away Pierre and I were. All of the hard work I had put in to creating a certain look and feel, definitely had paid off. I was so happy just when the bouquets arrived that morning, but then when I walked into The George and saw it all set up with the florals and place settings, I was lost for words. I was quite overwhelmed with emotion seeing it all come together. It was exactly what I had pictured in my head. Actually, it was better than that, and to see Pierre so incredibly happy with what I had done, made it even better. During the planning process, he didn't understand why I wanted dusty pink napkins (instead of the standard white ones that all venues offer), or why I desperately wanted gold cutlery - typical guy, right? That was until he saw it, and he said "you're right, the napkins and cutlery really make such a difference!". Haha, I told you Pierre!
The entire day and night was simply amazing. A number of people commented to us, that there was a lot of love in the room that night, and we could definitely feel it with everyone too. We have already watched our wedding videos so many times, and cry with happiness each time! We couldn't be happier with how it all turned out.
If I could offer any tips to future brides, it would be to scour the net, Pinterest, Instagram, etc, for inspo. If you don't know exactly what you are after, then I can't see how any supplier can fulfil all of your expectations. You need to be clear and concise, so that you don't feel disappointed on your big day!
Please also check out these sites that have featured our wedding…